The farm tractor will lead the agriculture tractor market
2014-01-14
HP Series high power wheel tractor and small wheel tractor market leader
For our agricultural products-farm tractor , the user is more rational , more favored good reputation, advanced technology, stable performance, high-end products and good service . Bona's current supply and booming situation,it continued to benefit from the business in recent years to improve the technology, quality, marketing, and management in various areas.
Since last year, Bona fast to promote " strong cast polyethylene core " strategy, product quality continued to improve,a large number of advanced production equipment , but also enable enterprises to continuously improve the level of manufacturing , assembly, quality has been effectively guaranteed. Meanwhile enterprises to increase technology investment , optimize marketing strategies , strengthen service support, accelerate structural adjustment , has introduced high-end products for the market demand, it is these fruitful work , the competitiveness of the market to further enhance DFH tractor(farm tractor) . Industry data show that this year , the market performance of the product is superior Bona tractor other companies in the industry . Even in the small wheel tractor in the field, HP series high-end small wheel tractor product sales also hit record highs , become relatively small downturn dragged the market a rare bright .
Bona shipped thousands of daily farm tractor. To ensure the smooth implementation of the plan of each unit of production, Bona various units and departments are in the host unit as a leader, to establish security for the mechanism.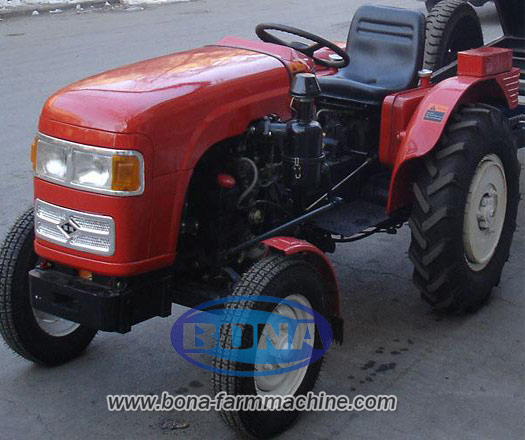 In response to strong market demand , we are in the organization of production , and many other supplies in advance to spare the "homework ." The supply of spare parts procurement department to sort out , and require suppliers to raise security for its guarantee commitments for capacity. During the high-yield, not only to ensure supply , do not "hungry ", it should also take good quality.Bona also sent a quality inspection team composed of engineers to focus on the quality of the supplier's production site for checks.
To prevent engine "three missing", the relevant departments to conduct special tubing parts to enhance,organize staff training,to prevent failure due to the oil spill caused by improper operation . At the same time,strengthen the supervision on key suppliers , technology sector through technical means to strengthen the protection of the tubing Parts , improve seismic, crack resistance , and big wheel tractor models for the pilot to drive improved low-pressure pipe tubing . Shipping sector is also actively taking measures to avoid the bump caused during transportation pipeline fault .